Boatlines D2, D11 and D12 are temporarily out of service, due to the decreased passenger number dropped drastically, as a result of the pandemic.
Please note that the single ticket for public transport boat is currently not on sale.
The already-purchased single tickets for public transport boat can be refunded at full price at BKK's any Customer Service Centre and also at the Central and Airport Customer Centres. https://bkk.hu/en/main-page/contact/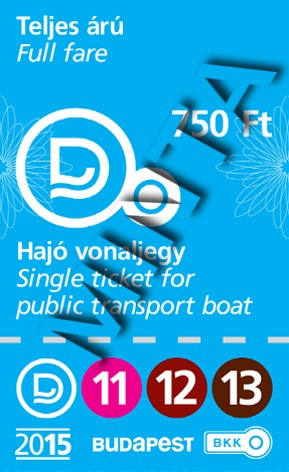 Valid for a single uninterrupted trip on the whole length of lines D2, D11 and D12. Return trips and transfers are not permitted. The ticket is validated by the boat crew. Please keep your ticket until the end of your trip. Please show and hand over your ticket if requested by the inspector. Please note that damaged or already validated tickets are not allowed to be issued.
Refund rule: see detailed regulation
Price: HUF 750