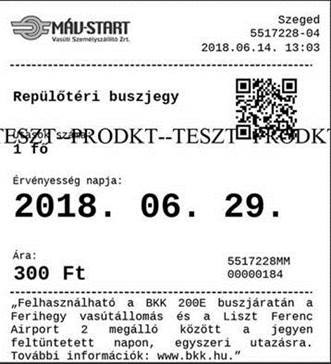 The airport bus extension ticket can be purchased as an addition to MÁV-START Hungarian State Railways tickets specified below. The bus ticket is valid on the indicated day for a single trip on BKK bus line 200E (daytime) or night bus 900 on the route section between the Ferihegy vasútállomás and Liszt Ferenc Airport 2 stops. The airport bus extension ticket is valid only together with a MÁV-START train ticket (including railway pass-type tickets and other railway travel IDs) originating or terminating at Ferihegy. The journey by the airport bus must be directly before or after the train ride.
Price: HUF 300
Sales points: MÁV-START Zrt ticket offices equipped with machine-based ticketing.
Refund rule: refundable at MÁV-START Zrt ticket offices before the start of validity (Please note that the regular train ticket refund handling fee also applies here).