06/22/2021. 11:11
Portugal vs. France EURO2020 match on Wednesday: plan your trip well in advance
Budapest, 22 June 2021 – The Portugal vs. France group match will start at 21:00 on Wednesday, 23 June 2021 at this year's European Football Championship co-hosted by Budapest. BKK has prepared for the event with more frequent public transport services and would like to advise fans to reach Puskás Arena and the Fan Zone in City Park (Városliget) by public transport and on foot. Major road closures are expected in the area from 17:00, therefore BKK recommends those on the road select alternative routes to their destinations.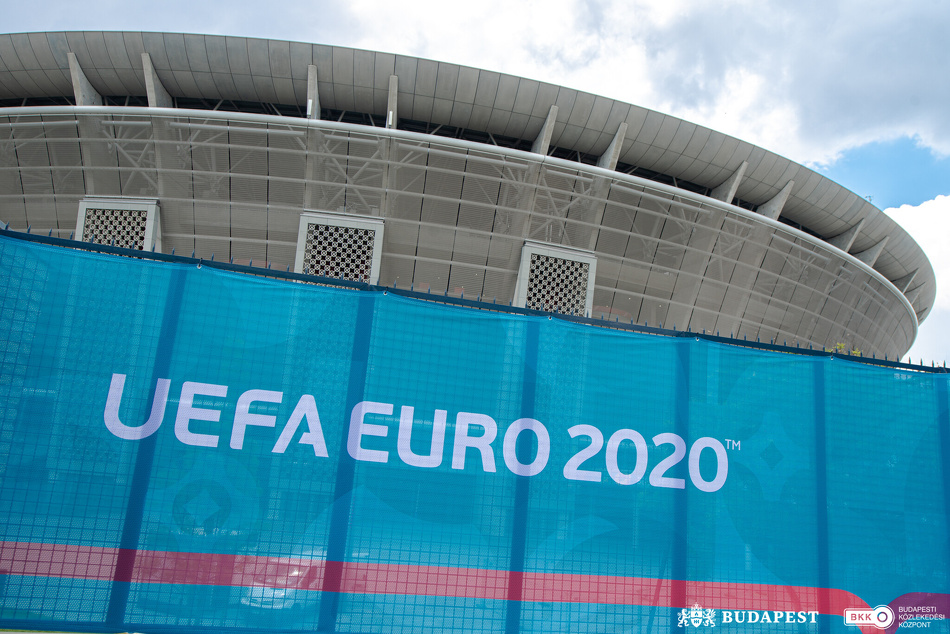 The Hungarian national team played its second tournament group match at Puskás Arena on Saturday. BKK wishes to thank everybody who was on the move in the capital for their understanding and flexibility in adjusting to the changed traffic situation resulting from the match and fans marching, and at the same time, BKK would like to ask for continued patience.
In the area of Puskás Arena, road closures are expected again, which could have an impact on the transport of passengers passing through the Eastern part of Pest, especially the Zugló neighbourhood. BKK would like to remind passengers to plan their trips well in advance and to leave in time while paying particular attention to BKK's information boards. For route planning, it is practical for passengers to use the BKK FUTÁR app, which calculates the most appropriate route for passengers to reach their destinations based on real-time traffic information.
Please note that during the event to be held on Wednesday, no parking is possible at and in the surrounding area of the Puskás Arena where also significant road closures are expected between 17:00 and 1:00 at night. It may be practical for passengers who opt for reaching the venue by car to use car parks along the routes of public transport services. BKK would like to recommend that fans reach the venue by fixed-rail public transport, i.e. metro- and tramlines and as much as possible passengers avoid that area by car on match day.
BKK would like to recommend that passengers not headed to the game or the Fan Zone avoid the vicinity of Puskás Arena and Hősök tere (Heroes Square) on Wednesday. Passengers wishing to reach the Újpalota or Újpest neighbourhoods before or after the match are advised to search for alternative routes: metro line M3 and tramlines 14 or 69 would be good choices to reach their destinations.
• To reach the venue of the match, it is practical to use metro lines M2 and M4 running more frequently than usual or tram line 1. The arena is accessible on foot from Keleti pályaudvar station (on metro lines M2 and M4) and the Puskás Ferenc Stadion stop (on line M2 and tramline 1).
• BKK staff are continuously monitoring traffic to ensure that even higher service frequency is offered on routes where needed.
Organisers recommend that spectators pick up their immunity wristbands already on Tuesday, the day before the game. Detailed information can be found on how to reach Puskás Arena as well as on the collection of wristbands verifying immunity against the coronavirus infection in our earlier press release. Please find further useful information on the accessibility of Puskás Arena and also on the collection of the wristband in the official UEFA EURO 2020 app. Entry to Puskás Arena is possible from the directions of Dózsa György út and Stefánia út streets, three hours before the match at the earliest. Organisers kindly request fans to arrive in time.
The following road closures are expected in the surrounding area of the arena from 17:00:
• the entire length of Verseny utca
• Dózsa György út between Kerepesi út and Thököly út
• Stefánia út between Hungária körút and Thököly út
• Egressy út between Hungária körút and Stefánia út
• the entire length of Istvánmezei út
• Ifjúság útja between Kerepesi út and Stefánia út
In addition, certain lanes on Hungária körút are expected to be restricted temporarily between Egressy út and Stefánia út.
The surrounding area of Hősök tere (Heroes' Square), Dózsa György út along with the side roads will be closed due to fans marching, thus passing through Thököly út may be impossible periodically. As a result, several public transport lines by BKK may be diverted or serve temporary stops. In case restrictions enable continuous passing along Thököly út - expected after the match - express lines running via Thököly út will temporarily use the the Reiner Frigyes park and Stefánia út / Thököly út stops.
Due to the traffic restrictions, from about 17:00, traffic service changes are expected in case of the following lines:
• bus lines 5, 7, 7E, 8E, 108E, 110, 110E, 112 and 133E running on Thököly út
• bus lines 20E, 30, 30A, 230 as well as trolleybus lines 72M, 75 and 79M running on Dózsa György út
• bus lines 95, 130 and 195 as well as trolleybus lines 75 and 77 departing from the Puskás Ferenc Stadion M terminus.
Please check the information boards at all times, as BKK keeps passengers up to date on the details and traffic service changes.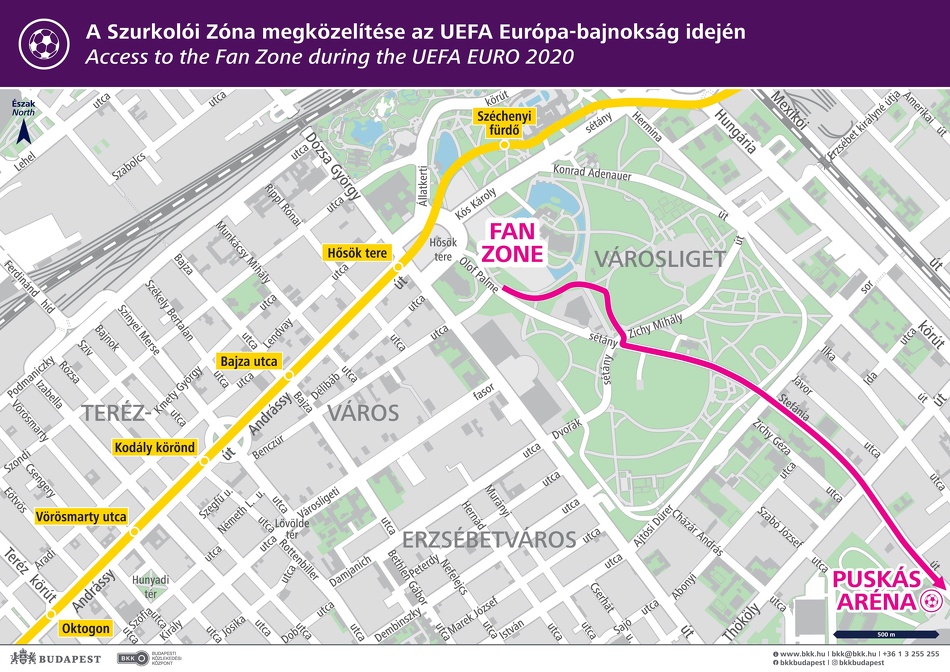 On Wednesday, BKK provides public transport ticket sales during extended opening hours (until 24:00, midnight) at the Customer Service Centre situated at Keleti railway station as well as at the ticket office at the Puskás Ferenc Stadion metro station. In addition, there are 12 regularly-disinfected BKK ticket vending machines (TVMs) at Keleti railway station, while there are five of those at Puskás Ferenc Stadion. On match days, BKK's on-site staff is at passengers' disposal at TVMs located at the busiest spots of metro entrances to assist with ticket purchase or orientation. BKK also operates a ticket sales point by the entrance of the Fan Zone in the form of a truck parked at Olof Palme sétány, which will be open on match days from 15:00 to 23:00. Find the sales point closest to you with the help of our map-based search interface. Several popular types of multi-day travelcard and pass are also obtainable in different mobile ticket apps.
Please note that wearing a mask covering mouth and nose is no longer obligatory at stops, however the mask-wearing rule is still in force on board vehicles and indoors - hence at metro stations. Thanks to regular disinfection and mask wearing obligatory since April 2020, public transport continues to be a safe option.
We take care of you, so let's take care of each other!
BKK Centre for Budapest Transport