06/10/2021. 17:30
BKK is well-prepared for the Friday opening of the Fan Zone in City Park
Budapest, 10 June 2021 – The first matches of this year's European Football Championship co-hosted by Budapest will take place on Friday. BKK strives to make the visitor experience to the Fan Zone in City Park more enjoyable by increasing transport service frequencies, installing a mobile sales point on site and by dispatching more customer coordinators.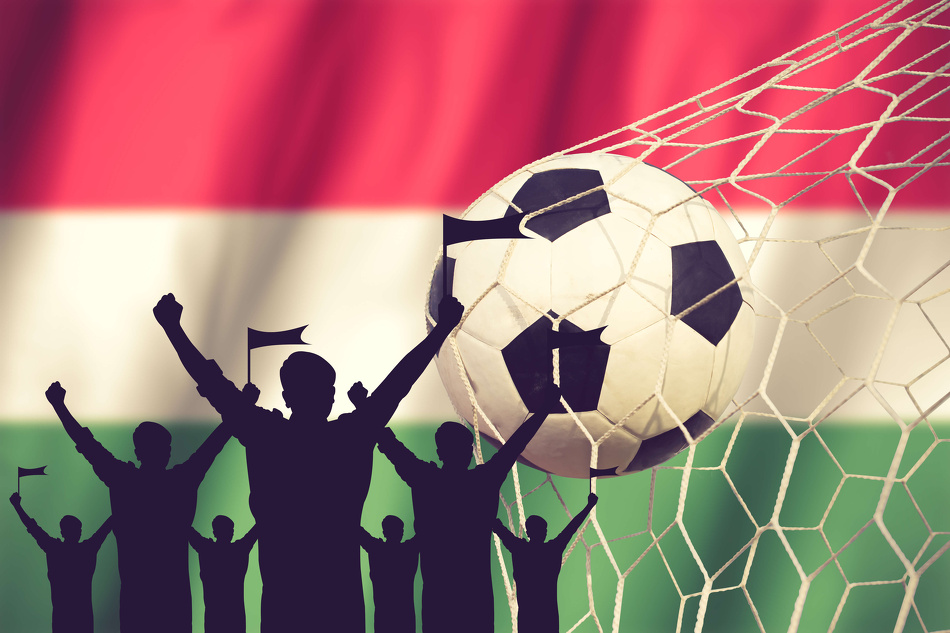 On Friday eve on 11 June 2021, one month of football fun will begin with the group game kick-off between Turkey and Italy. Also at the start of the tournament, the Fan Zone with a capacity of up to 11 thousand spectators will open its gates at the City Park Ice Rink.
During the 31-day period, the venue will daily open at 11:00 and close one hour after the last match of the day, while on rest days the closing time is 22:00. City Park near Heroes' Square is easy to reach by public transport and by cycling or walking. The Fan Zone has no parking facility, so fans are advised to leave their cars at home.
BKK has introduced traffic measures to facilitate fans' movements in the city. Metro M1 will have extended operating hours and will run more frequently in late evenings on all match days. On the match days in the knockout competition phase following the group games (starting from 26 June), metro M1's operation will be adjusted to the game's end in case of overtime or penalty shootouts. We recommend using the BKK FUTÁR app to plan your journey, which uses real-time data to calculate the best route to your destination.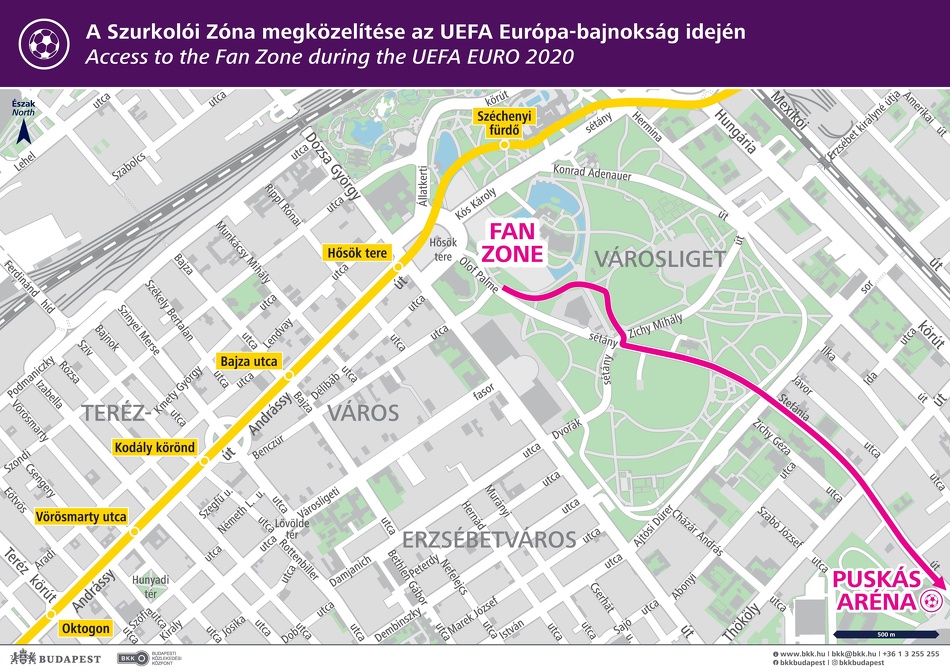 BKK operates a ticket sales point by the entrance of the Fan Zone in the form of a truck parked at Olof Palme sétány, which will be open on match days from 15:00 to 23:00. In addition, two regularly disinfected BKK ticket vending machines are available at Hősök tere station of metro line M1, where on-site staff will be happy to provide information and assist with your purchase. Find the sales point closest to you with the help of our map-based search interface. Several popular types of multi-day travelcard and pass are also obtainable in different mobile ticket apps.
BKK, in close cooperation with its partners, waste management and street cleaning company FKF Nonprofit Zrt. and the Municipal Public Space Supervision Authority (FÖRI), consider it important to ensure that even during the championship, Heroes Square and Puskás Arena, along with public transport stops at key locations remain clean and orderly in order to increase comfort and safety levels for locals and visitors alike.
Take public transport or walk to the stadium!
Budapest is among the 11 host cities of the UEFA European Football Championship to be held from 11 June to 11 July 2021. Puskás Arena will be the venue of four matches: Hungary-Portugal on 15 June, Hungary-France on 19 June and Portugal-France on 23 June will be in the group stage, and then on 23 June there will be a round of 16 game. The stadium is best reached by public transport or on foot as there will be no parking available at the arena and road closures are also expected in the area.
The transport situation and local residents in East Pest will be significantly affected, therefore we advise you plan your trip well ahead, look out for transport service updates and if possible, avoid the vicinity of Heroes' Square and of the Arena on match days. The summer football tournament is going to bring changes to the transport situation in the capital, therefore BKK will keep you up to date with the details.