07/01/2021. 13:30
More than just a pass – the Quarterly BKK-pass now includes car sharing
Budapest, 1 July 2021 – Customers who purchase a Quarterly Budapest-pass between 1 and 31 July with a validity starting within the same period and register on BKK's website will get vouchers for using car-sharing services offered by MOL Limo, SHARE NOW and GreenGo.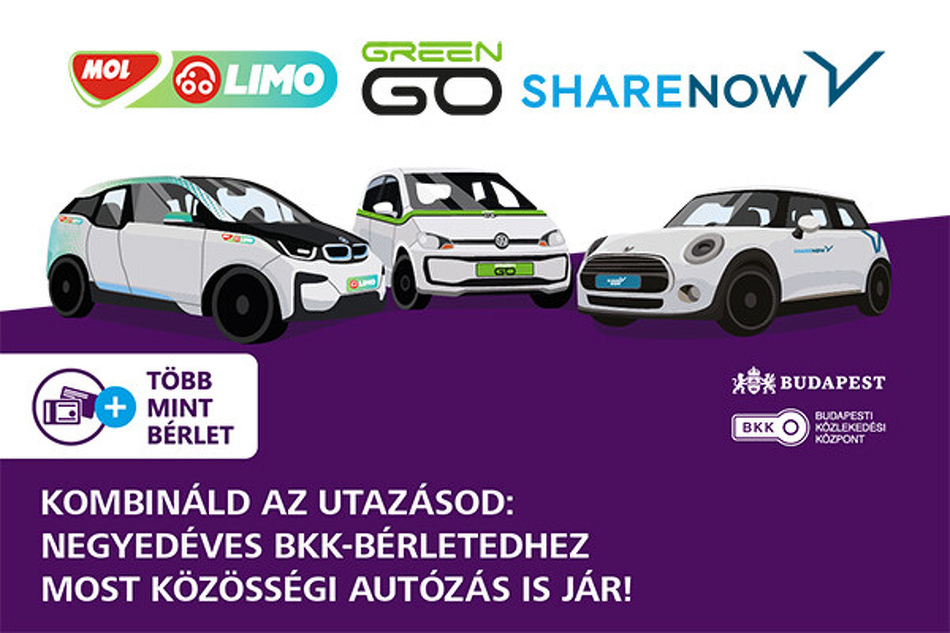 Combinable journey – public transport a bit differently: BKK Centre for Budapest Transport along with its partners operating car-sharing services have a special offer in store for BKK's customers. Each quarterly pass purchased between 1-31 July comes with vouchers worth 5,000 HUF to be used for car-sharing provided MOL Limo, SHARE NOW and GreenGo, provided the start date of pass validity falls within the same period of time.
Customers who have registered will be contacted by the car-sharing service providers within four days after registration at the latest, and if conditions are met, a 5,000 HUF voucher will be issued by each provider, which can be used within 100 days after issue. The vouchers are non-transferable, meaning that only the registered person can use them. Those who have not yet registered with a car-sharing service are encouraged to do so, in order to get the vouchers. In case a user account has been suspended, the voucher's value will be credited after the account has been reactivated.
The promotion is open to anyone who is 18 years of age on the day of registration at the latest, and has had a driving licence for at least a year.
For more information and registration please visit Negyedévesbérlet-promóció (bkk.hu)
Passes can be obtained at BKK Customer Service Centres and from BKK ticket vending machines, check locations here. The Quarterly Pass is also available as a mobile ticket: visit Mobileticket (bkk.hu) for details.
BKK Centre for Budapest Transport