10/06/2022. 12:59
New features and faster operation on BudapestGO
Budapest, 6 October 2022 – BKK Centre for Budapest Transport's BudapestGO app has been updated with new convenience features. With more than one and a half million users, the app allows customers to plan their journeys more accurately and use it faster thanks to improvements. For those who do not have automatic updates set, they will need to update their app to activate the new features.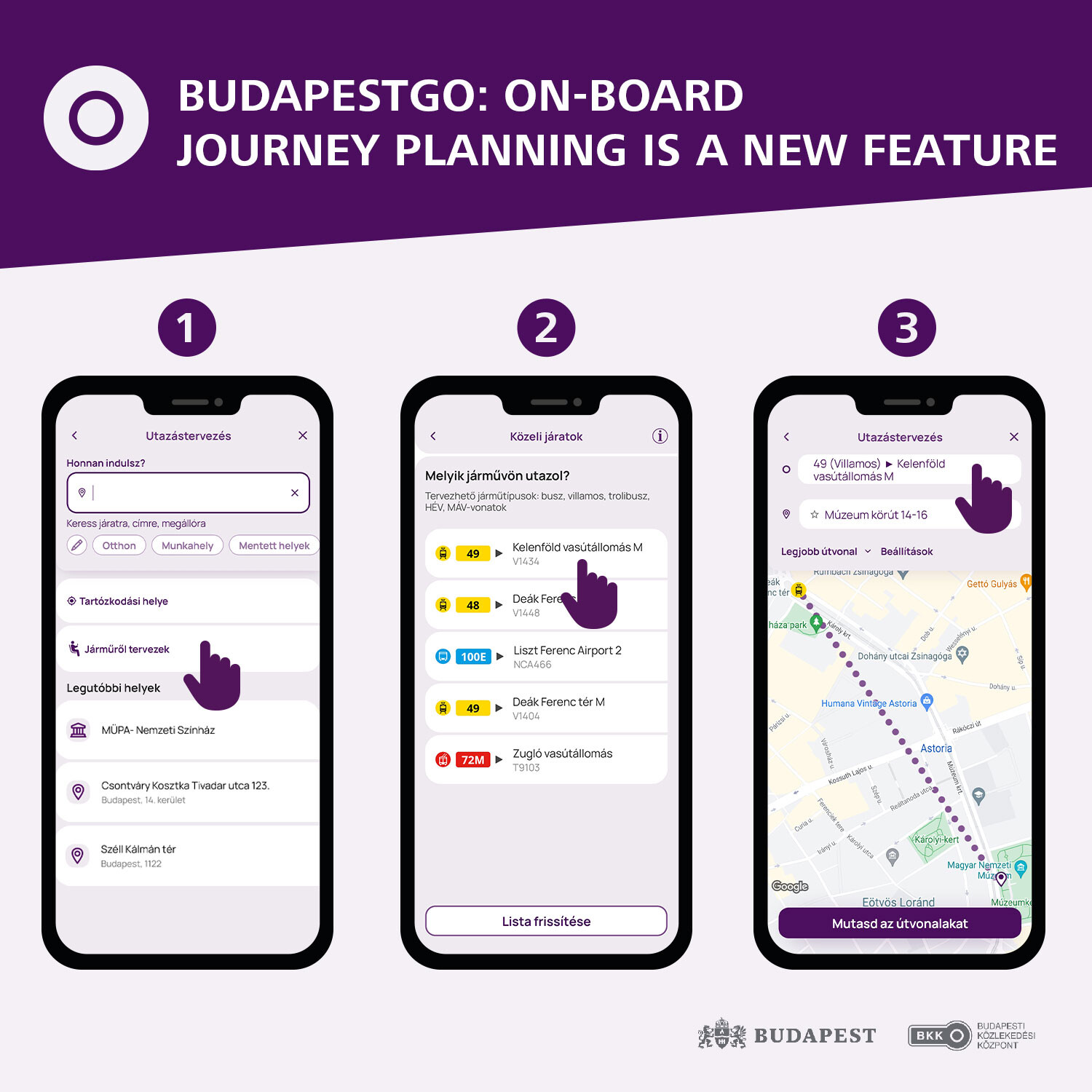 As promised, BKK is continuously improving its BudapestGO application, which was launched in February. Based on customer feedback, several new features were added to BKK's popular app in the first days of October.
Journey planning while travelling in a vehicle
An internationally unique new feature has been added to BudapestGO, called "On-board Journey Planning" in the app. Now you can plan a new route on the go, conveniently - even during an unexpected traffic jam. This gives customers real-time, up-to-the-minute arrival information, because the app also takes into account the time spent in the vehicle when calculating the route. So, for example, it won't direct you on foot to the next stop or try to make you board the next vehicle.
Filter by vehicle category
With BudapestGO, customers can now filter the type of vehicle, choosing between underground, street-level or fixed-rail services. This feature can help customers with reduced mobility or wheelchair users to plan more ideal, barrier-free routes, and for example families with small children or tourists, to calculate their above-ground connections.
The app is faster
The app is now faster to open and it takes 1-3 seconds less time to load than before, depending on the phone type. This means that passengers can plan their journeys, buy tickets or passes in less time and show their digital products more quickly.
BudapestGO is constantly evolving
Launched in February, the app has quickly become popular with customers for its convenience features: in addition to journey planning, the app offers a simple and quick solution for ticketing. The widget is one of the most popular convenience features, according to customer feedback, allowing you to place a ticket or pass on your phone's home screen with a single swipe and have it at your fingertips. Thanks to the automatic pass renewal option, the passenger will always have a valid pass without having to remember the expiry date.
In May, new features were added to BudapestGO, making the app even better and more accurate for cyclists, and the Telebusz and Telefogas on-demand bus and cogwheel services were also made available.
The usage level of the app is increasing dynamically: more than one and a half million customers have already used BudapestGO to buy tickets, repurchase passes and plan their public transport or cycling routes. Compared to the former FUTÁR app's monthly average of one and a half million, more than 3.4 million trips were planned with BudapestGO in September.
The latest version of the BudapestGO app is available for download in the Play Store and the App Store. More information and videos showing the features are available at bkk.hu/budapestgo