08/24/2020. 12:04
Safe. Together.
Even during the coronavirus pandemic, taking public transport is a good choice when going to work, school, on an outing or going out with friends.
Travel safety is ensured by both the transport service providers who regularly disinfect vehicles and the passengers who respect the mandatory mask-wearing policy – this was the message of Lili Király, a model and beauty queen, in the joint campaign of the Municipality of Budapest, BKK and Budapest Transport Company BKV Zrt. promoting public transport.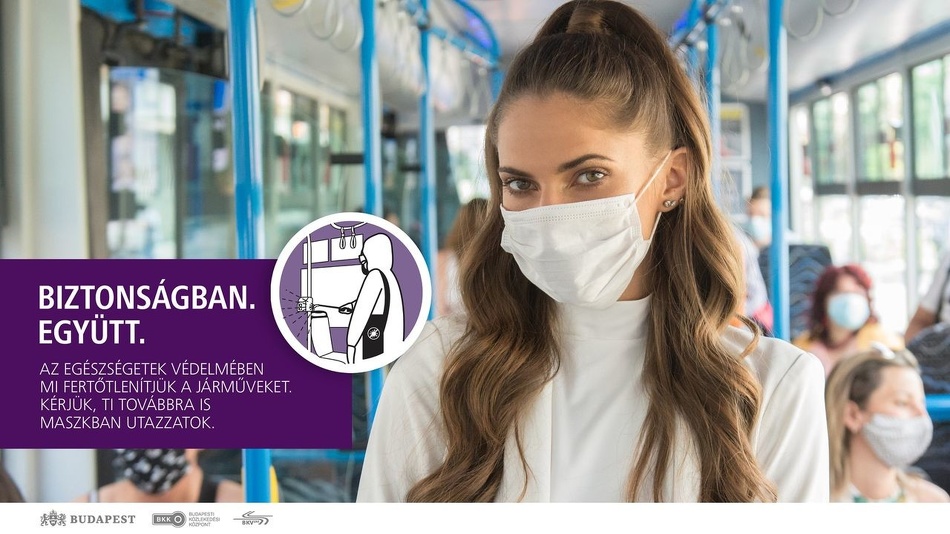 The pandemic has fundamentally changed our everyday lives including transport. In the spring during the peak of the pandemic situation, ridership on BKK's services drastically declined like never seen before since we were compelled to change our habits, which did not favour trust in using public transport. However, the Municipality and its transport companies, BKK, BKV and VT-Arriva do their utmost to provide as high level of safety as possible. Vehicles including their air-conditioning systems, metro stations and ticket machines are disinfected as often as possible, and services operate with high frequencies and ample passenger capacity despite still low passenger numbers.
The campaign featuring former Miss Balaton beauty queen Lili Király highlights the fact that we can reduce the epidemic risk to a minimum with our joint effort: for travel safety, passengers need to keep health protection rules regarding mask wearing on public transport. Masks protect only if they cover both mouth and nose to prevent breathing in the virus. By keeping the rules, we not only protect ourselves but also our fellow passengers because the incubation period of the virus can be as long as two weeks and most infected people have no symptoms.
Therefore, by respecting the necessary health protection measures, passengers using public transport face no risk, and they are awaited by the service providers who will transport them safely to work, school or wherever their destinations are.
Budapest, 24 August 2020

BKK Centre for Budapest Transport
BKV Zrt.