You have several options to get your ticket, pass or travelcard:
At any time of the day, around the clock, from BKK ticket vending machines with cash or a bankcard. You can find our points of sales on the map here.
BudapestGO application, you can check the details here.
You can find our Customer Service Centres and Ticket Offices at more points in the city (for example at the airport as well), where maps and other brochures are also available. Both cash and bankcards are accepted for payment.
A single ticket on board the bus costs 450 HUF. Please have the exact amount in cash ready, as the driver does not have change.
Ticket types
Single tickets are valid for a single, non-stop journey, except on the metro network, where no new ticket is required for transfers between metro lines. If you plan to transfer more than once, choose our time-based tickets in the BudapestGO app. You can transfer as many times as you like within the validity period with the 30- and 90-minute tickets, but be aware that you'll need to validate each time you transfer by scanning the code. You can end a journey that you have started within the validity period even if your timeframe expires in the meantime.
With daily travelcards you can make an unlimited number of transfers within the validity period. Up to 5 passengers travelling together may use the 24-hour group travelcard. Special fares apply to bus line 100E operating between the airport and the city centre (Deák Ferenc tér) as well as to special vehicles. For more information on tickets, passes, where and how to buy them and on travel terms, please visit bkk.hu.

Travelcard prices will change on 1 September 2022.
Where to get your ticket
On the bkk.hu/pontkereso website and in the BudapestGO app, a map also shows customer service centres, ticket offices, ticket vending machines and retailers so you can find them easily.
Budapest's public transport system - like that of many big cities - operates a pre-purchase system. We recommend that you buy your ticket or pass well in advance. The most convenient solution is to use the BudapestGO app - bkk.hu/budapestgo - but in addition to ticket machines, you can also use apps, BKK ticket offices and customer service centres along with our retailers to obtain tickets.
Before you travel, please visit our website bkk.hu/en/about-bkk/contacts/ or bkk.hu/pontkereso/ for a list of current sales points and their opening hours. For more information on other ticket and pass types, please visit bkk.hu/en/tickets-and-passes/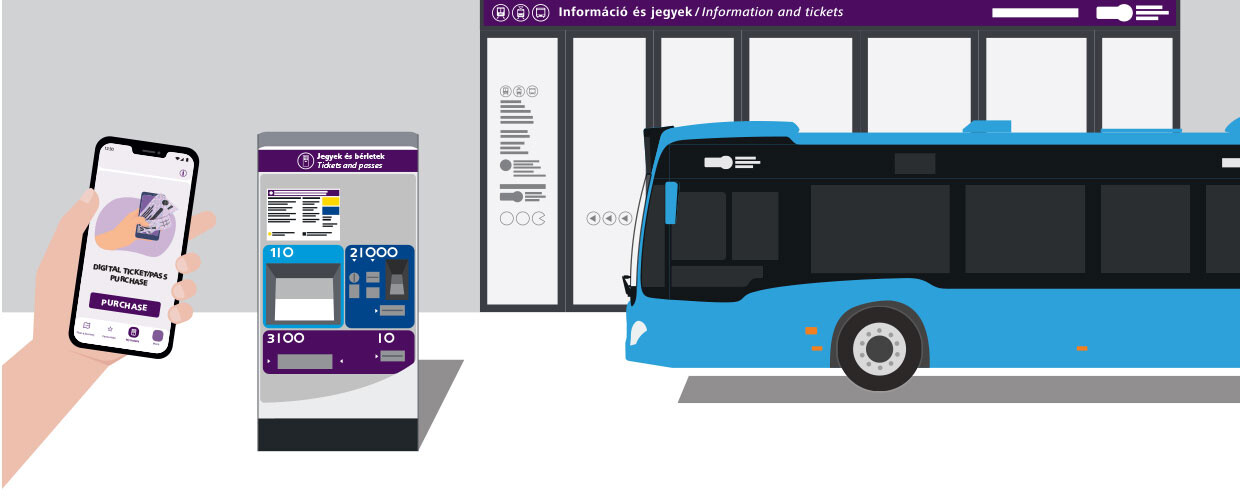 Always validate your ticket
Buying the ticket is not enough! You need to validate your single tickets at the start of your journey:
Paper tickets: use the validating machine - it will stamp a code on the ticket or punch a hole.
Digital tickets: scan the code stickers, which you will find at the entrance of the metro on the front of the paper-ticket validators and outside by the doors on street-level transport. Time-based tickets must always be validated when you board a different vehicle.
Daily travelcards and passes: no validation required.
Validate your ticket at the start of your trip! To use the red coloured manual validator, insert the ticket into the slot and pull the handle towards you until the ticket is punched. For the yellow electronic validator, insert the ticket into the slot and remove it when the red light flashes. Keep your ticket until the end of your journey, as you will have to show it to the ticket inspector when you are checked.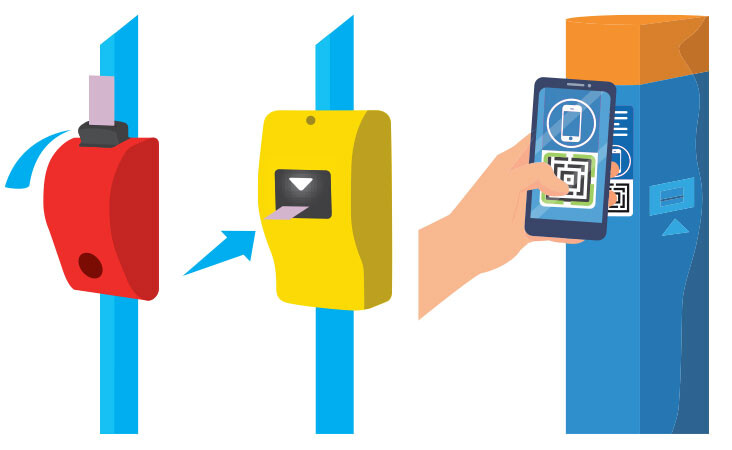 Penalty fare
If you do not have a validated single ticket or a valid daily travelcard or pass (with the linked original photo ID you provided when you bought it), the ticket inspector has the right to charge you a penalty fare. You can pay the reduced amount of 12 000 HUF on the spot in cash or, if the ticket inspector has a terminal, by bankcard. If you pay later, the amount increases to 25 000 HUF; both payment methods are possible at BKK Customer Centres. For more information please visit this site.