Discounted annual Budapest- and MOL Bubi pass (business)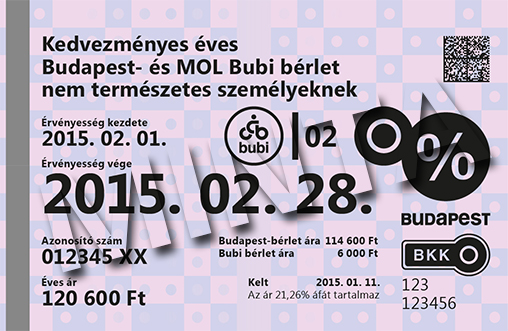 Valid from 0:00 on 1 January 2020 (but from the time of purchase at the earliest) to 2:00 on 6 January 2021 within the administrative boundaries of Budapest on lines 1-99, 101-299, 900-999, City-trolleybus, M1, M2, M3, M4, H5, H6, H7, H8, H9, D14, on designated commute services of MÁV-START national railways and VOLÁN regional bus lines. It is valid on lines D2, D11 and D12 on workdays only. The pass is issued in a 12-slip format, with each slip valid for one calendar month from 00:00 of the first day of the given month until 2:00 of the first day of the following month (except for the December slip which is valid until 02:00 on 6 January). Valid with a valid personal photo ID, passport or card-format driving licence or (until 31 March 2021) BKK ID. The ID number is to be provided at the time of purchase as it will be printed onto the slip. Valid with linked original photo ID only. The validated pass is non-transferable. If the pass gets damaged or the ID number has changed, the pass will be exchanged for the same type of pass with the same validity in return for a handling fee at the designated locations. In case of an exchange, non-used and still valid slips will be revoked. Please present and hand over your pass slip valid for your trip if requested by the inspector.
The removal of the section with the barcode and pass number is strictly prohibited. Please note that we cannot replace lost passes.
Following registration for the MOL Bubi public bicycle-sharing system, the pass entitles the holder to a MOL Bubi card to be used for hiring bikes.
Please click here for the advance purchase rules.
Refund rule: not refundable, not even before the start of validity (see detailed regulation)
On sale: Main Customer Service Centre
Price: HUF 120 600