Benefits at BKK
BKK Centre for Budapest Transport not only has a lot of challenges for you, but financial security, continuous opportunities for professional development, a diverse corporate community, a competitive salary, performance bonus and fringe benefits as well. You can get detailed information about the benefit package available in the position you are applying for during the recruitment process.
In addition to the basic salary:
shift workers are entitled to a shift allowance;

the annual cafeteria budget is HUF 396,000, in which several elements are selectable: SZÉP-kártya, sports and cultural activities, child care benefits (nursery and kindergarten), etc.;

childbirth allowance, time-off with pay for married couples.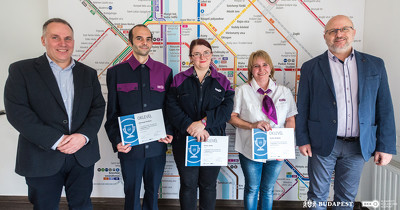 Jubilee award, BKK commemorative plaque and certificate of appreciation:
BKK values the loyalty, commitment and professionalism of its employees. To remunerate this, the following recognition system has been developed.
The jubilee reward is a financial benefit in addition to the basic salary, with which BKK rewards the employees' length of employment at the company.
Every year, we recognise the work of our employees who have performed outstandingly for a long period of time (at least 5 years) for the benefit of our company with the Balázs Mór Award, and which is accompanied by a monetary reward.
An employee who has performed consistently above average in his or her field for a long period of time (at least 1 year) and has been an employee of the company for at least 3 years will receive a certificate of recognition and the associated cash reward.